Why Is VoIP a Leading Contact Center Technology?
Contact centers are vital to any business that strives to deliver exceptional customer service. Today's contact centers are far more than telephone banks; they're centers for multi-channel communication.

Business leaders are increasingly turning to VoIP technology for their contact centers. VoIP communication systems offer robust tools, integrations, and analytics, empowering business leaders to maximize contact center productivity, employee engagement, and customer satisfaction.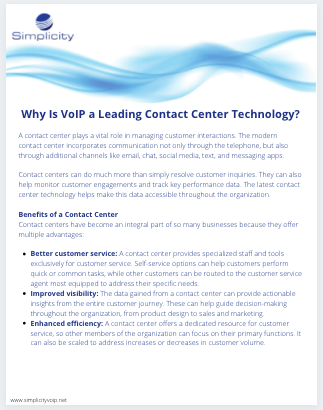 Prefer to receive a copy of this page via email?

Simply fill out the form at right, and you'll get a PDF version delivered directly to your inbox.

A contact center plays a vital role in managing customer interactions. The modern contact center incorporates communication not only through the telephone, but also through additional channels like email, chat, social media, text, and messaging apps.
Contact centers can do much more than simply resolve customer inquiries. They can also help monitor customer engagements and track key performance data. The latest contact center technology helps make this data accessible throughout the organization.
Benefits of a Contact Center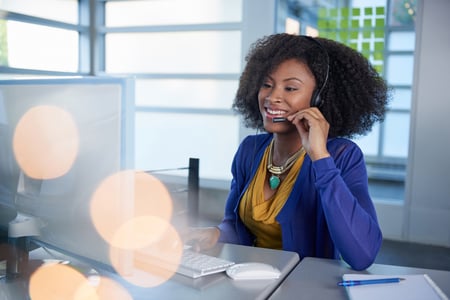 Contact centers have become an integral part of so many businesses because they offer multiple advantages:
Better customer service: A contact center provides specialized staff and tools exclusively for customer service. Self-service options can help customers perform quick or common tasks, while other customers can be routed to the customer service agent most equipped to address their specific needs.
Improved visibility: The data gained from a contact center can provide actionable insights from the entire customer journey. These can help guide decision-making throughout the organization, from product design to sales and marketing.
Enhanced efficiency: A contact center offers a dedicated resource for customer service, so other members of the organization can focus on their primary functions. It can also be scaled to address increases or decreases in customer volume.
Does Your Business Need a Contact Center?
Contact centers were once the domain of telemarketing firms and huge national companies. But today they're often an essential part of the customer experience for businesses in every industry.
When people think of organizations that need contact centers, they tend to think of two factors:
Customer-interaction volume: The more interactions that your company has with customers, the more important it is to maintain a dedicated customer service staff. This is why retail companies consistently rely on contact centers.
Product complexity: Organizations that offer complicated products (such as financial services and insurance companies) must provide more robust customer support to handle lengthier, more specialized interactions.
Regardless of your company's product or interaction volume, the bottom line is that customer expectations have rapidly evolved in the past decade. Customers are no longer satisfied with 9-to-5 customer support via telephone calls. They look for 24/7 support through their own preferred communication methods, which might include text or social media messaging; web chat; email; or other channels.
Organizations across all industries have implemented contact centers to address these changing customer needs. Even small to medium businesses (SMBs) that wish to gain competitive advantage have embraced contact center funtionality.
Signs That Your Business Needs a Contact Center
The following factors are good indicators that your business would benefit from a contact center:
Delayed response times: If customers are waiting too long to reach someone, their dissatisfaction could jeopardize your business. And if prospects wait till the next day to hear back from your sales team, your conversion rate is probably suffering.
Limited engagement opportunities: The telephone is only one means for connecting with customers. A contact center allows you to offer a much wider variety of options.
Lack of relevant data: Some businesses don't actually have any information about how long it takes to respond to customers. Without these basic metrics, you can't make well-informed business decisions.
Limited availability: Customers today expect 24/7 support, even if they know your business isn't open all the time. A contact center offers a centralized place to administer communication through a wide variety of channels.


How VoIP Works
VoIP stands for "Voice over Internet Protocol." It refers to the process of making phone calls over the Internet, rather than a traditional landline or a mobile network.
VoIP systems work by taking analog voice signals and translating them into digital signals (known as packets), then finally sending them as data over a broadband line. If you are calling a regular phone number, the signal is converted to a regular telephone signal before it reaches the destination.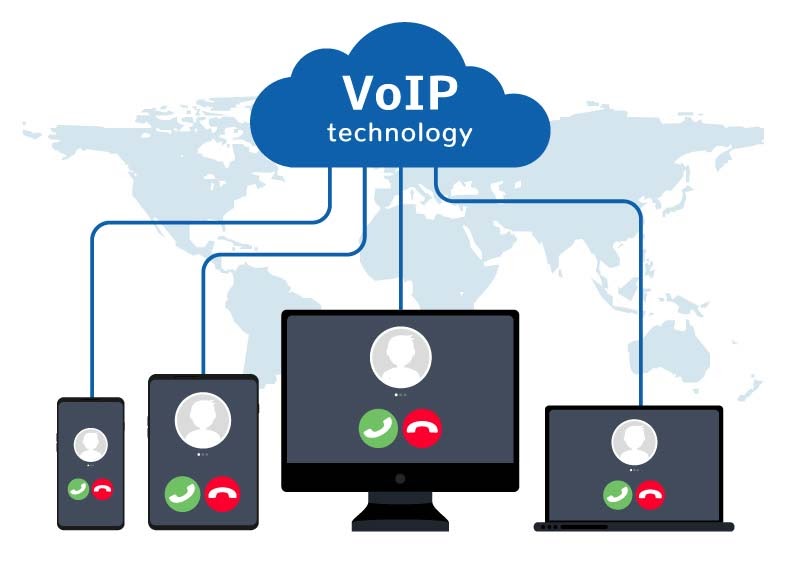 This process occurs almost instantly which is why VoIP sound quality is often even better than regular phone calls. VoIP can allow you to make a call directly from your laptop, tablet, regular smartphone (using an app), and even VoIP-compatible office phone sets.
In addition, wireless "hot spots'' in locations such as airports, parks, and cafes allow you to connect to the Internet and may enable you to use VoIP service wirelessly. VoIP uses modern technology by taking a standard internet connection and allows users to make phone calls cheaper (or even free depending on setup or distance).
Most VoIP systems are configured to include a SIP server (maintained by your VoIP provider) and desk phones, which might be traditional telephones or computer-based softphones. VoIP data is usually stored securely in the cloud, and the entire system is managed through an online dashboard.
Advantages of Using VoIP for Contact Centers
Successfully running a contact center isn't easy, and your communication system is critical to that success. Voice over Internet Protocol (VoIP) technology offers many advantages over traditional communication systems:
Easy customization: Your VoIP system can be configured to fit your organization's unique communication needs. For example, you can choose whether your VoIP system will be hosted entirely by your VoIP provider, hosted on-premise, or hosted via a hybrid model. And the options continue all the way down to hold music and the menu choices on your interactive voice response (IVR) menu.
Scalability: You're probably planning for your business to grow. And with VoIP it's easy to expand your contact center with a few simple clicks. You can also change or add locations. And because you only pay for the seats that you need, you'll continue to save money as you grow.
Integration with key applications: Unlike a legacy telephone system, a VoIP system integrates with other enterprise communication tools and applications, such as your CRM. Notable integrations include Microsoft Teams and Salesforce.
KPI visibility: It's important to track the key performance indicators (KPIs) that illustrate the quality of your customer service (e.g., calling times; average time to answer; abandoned rates; missed calls per employee or per department). Your contact center's VoIP system includes a dashboard for tracking these and other important analytics.
Maximized uptime: Your communication system should stay up, even if the internet is down. The best VoIP providers offer robust wireless backup with seamless failover, to ensure business continuity no matter what. Wireless backup will help your company avoid data loss and maintain revenue streams even while the network is down.
Cost savings: Switching to VoIP doesn't require an entirely new system or additional hardware. It uses your existing internet infrastructure, so you save big on the initial setup. Monthly subscriptions are also low, and you pay only for the services and equipment that you need.
Remote capabilities: The COVID-19 pandemic forced most contact centers to transition to remote work. VoIP services can easily be adapted to remote capabilities because they use softphone equipment that requires only an internet connection. Experts predict that remote work capabilities will continue to be important for contact centers that want to attract and retain qualified employees.
Change management: VoIP systems make it easy to add or remove users; update call queues; and complete other changes that are often necessary as your business evolves.


10 Must-Have VoIP Features for Contact Centers
If you're considering VoIP for your contact center, be sure you get these must-have features.
#1. Auto Attendants
Sometimes also called a virtual assistant, an auto attendant is a voice menu system that routes callers to the correct agent or extension without the intervention of a human receptionist.
Auto attendants can improve customer satisfaction because they optimize call handling. Customers are more likely to get routed to the right person from the beginning, with reduced risk of dropped calls. They also improve employee productivity because employees only receive calls that they're qualified to handle, and they don't spend time manually answering and transferring calls.
#2. Call Monitoring
Sometimes contact center agents need a little extra support, especially if they're new to the job or are dealing with customer service challenge. Call monitoring allows supervisors to monitor calls and intercede if needed. Whisper technology allows managers to guide the contact center agent on what to say, without the customer's knowledge, or to intercede in the conversation.
Call monitoring is instrumental in employee training. It can also contribute to overall better agent performance for multiple reasons:
Agents are more likely to be attentive and follow best practices when they know they're being monitored.
Reviewing customer interactions can help improve scripts and processes, resulting in higher rates of customer satisfaction.
The overall number of bad calls is often reduced, improving efficiency.
#3. Automatic Call Distribution
Automatic call distribution (ACD) is a system that automatically receives inbound calls and distributes them to contact center agents. Implemented well, an ACD can improve customer satisfaction and employee engagement.
The ACD collects information, such as location and language, based on caller ID. It also uses the customer's response to the interactive voice response (IVR) to determine the caller's needs. Using this information, the ACD will queue callers based on a customized set of factors that usually include customer status, query, and wait time. The call is then routed based on your preferred method. For instance, calls might be answered on a first-come, first-served basis, or based on agent specialization.
#4. Interactive Voice Response
An interactive voice response (IVR) works in tandem with the ACD. This technology allows customers to select an option that best describes their needs, either by pressing a button on their phones or by voice command. IVR systems can handle basic requests such as paying bills, finding out account information, routing to the correct department, or finding hours and locations.
These IVR menus allow customers to do some of the work independently and will leave more call center agents free to handle more complex queries or requests. The most effective IVR menus include no more than five options, and they always allow people to speak directly to an agent.
#5. CRM and Third-party App Integration
Your contact center is an incredible mine for customer-service data and insights--but only if you're tracking the action. Integrating your VoIP system with your CRM and other apps (such as Microsoft Teams) allows you to maximize the value of this data across your organization.
Real-time call data can help your customer service agents to close more deals. A CRM integration makes this data available immediately, without agents having to manually enter notes about each conversation. Meanwhile, your sales and marketing team can use the insights gained from the contact center to better understand customer behavior, which can help to refine buyer personas and marketing strategies.
#6. Integrated Analytics and Reporting
A contact center represents a considerable investment in customer service. How do you know if you're getting any ROI? With a traditional phone system, it's often difficult to track individual agents' or departmental performance. VoIP systems offer integrated analytics and reporting tools, accessible in real time through your VoIP service platform.
Your VoIP system will provide a comprehensive, real-time view of performance for the entire contact center. Basic analytics like call wait times and time to resolve a call can be used to evaluate progress toward KPIs like customer satisfaction (CSAT), customer retention, and a customer effort score.
#7. Mobile Apps
Consumer expectations and preferences are changing. And consumers are also employees. Employees are increasingly using their mobile devices for business functions. Mobile apps make it even easier to take VoIP services and tools anywhere. Call center agents might use mobile apps to handle customer interactions, while managers could use them to track employees' performance and share insights on the go.
More sophisticated VoIP apps include key features such as video conferencing, group chat, and SMS/MMS. These are particularly beneficial for remote employees or those who frequently travel.
#8. Call Parking
A VoIP system allows call parking, where you put a caller on hold in the cloud. A parked call can then be answered by anyone in the organization by dialing the park extension number. Call parking is especially useful in contact centers because calls can easily be answered by the selected agent or supervisor.
#9. Call Recording
VoIP phone systems include software for recording calls, an indispensable feature for every contact center. Call recordings are useful for training both contact center agents and the sales team. Furthermore, recordings offer valuable information for quality control or legal purposes. Other advantages of call recording include the following:
Compliance: In certain industries, most notably in financial services, all verbal communications must be recorded for the purposes of monitoring by the government.
Liability reduction: Miscommunications potentially lead to costly lawsuits, and call recordings can help reduce the chances for legal action.
Improved security: Companies that record their communications see fewer inappropriate calls and interactions than those that don't.
More employee engagement: Employees are less likely to make personal calls when their communication is recorded.
#10. Call Transcription
The latest must-have VoIP feature is call transcription. While a recording is often helpful for training and quality control, it's not easily analyzed or searched. Call transcription allows your company to treat every call as part of a huge data set that can be analyzed to glean all kinds of insights.
And thanks to artificial intelligence (AI), call transcriptions have even more power. Sentiment analysis is the process of mining customer data (in this case call transcripts) to determine emotions and attitudes. On an individual basis, this means that callers who appear angry can be routed to agents who are adept at handling difficult situations. On a larger scale, the results of sentiment analysis can be used to provide a holistic view of customers' feelings, which is valuable for sales, marketing, and even product development.
Contact Center Technology Trends for 2021 and Beyond
Over the past year especially, trends in contact centers and communications have adapted to the world around us. The COVID-19 pandemic caused many organizations to reassess their operations; emphasize remote work; and higher expectations for customer service and for employees. These trends will continue to impact contact center operations in the coming years.
#1. Expanded Reliance on the Cloud
The cloud eliminates physical hardware and increases reliability, functionality, and flexibility. For example, companies that were already using the cloud in their daily operations had a seamless transition when the pandemic caused traditional office jobs to move to remote locations. Team members are able to work from wherever and whenever they need to.
Companies that made the switch during 2020 have already seen the benefits of the cloud: improved business agility and continuity; increased security, enhanced productivity, and better agent experiences. The cloud also enables users to personalize their experience. Customers can receive on-demand, 24/7 support and can take advantage of trendy tools such as Cloud VOIP systems, live chat software, video consultation, asynchronous messaging, and SMS service lines.
#2. New Reliance on Artificial Intelligence
Automated and semi-automated communication tools are smarter than ever. Artificial intelligence (AI) has proven effective for performing tedious, repetitive tasks with greater speed and accuracy than humans. AI is finding its way into the contact center for a wide variety of applications across communication channels:
Chatbots: The latest generation of chatbots uses conversational AI for more natural, intuitive interactions. Customers increasingly report that they actually prefer to interact with chatbots for simple self-service inquiries and requests. And when chatbots handle these simpler interactions, agents have more time for more complicated customer service challenges.
Workflow automation: Thanks to natural language processing (NLP), robots can monitor calls and automatically start tasks that are mentioned in the conversation, such as opening a support ticket or emailing a customer order details. Currently, most workflow automation must be set up manually first, but that's sure to change in the next few years.
Sentiment analysis: NLP also enables sentiment analysis of call transcriptions, also sometimes called "voice of the customer" technology. Understanding customers' emotions provides vital insights not only for the contact center, but also for business functions throughout the organization. For example, consistently negative sentiment about a product feature might trigger the development team to make the product more user friendly.
#3. Data-driven Decision Making
The best VoIP systems already provide contact centers with robust tracking and analytics capabilities. Many of these tools have been overlooked in the past, but the rapid move to remote work meant that business leaders needed more real-time visibility and transparency than ever before. After all, ensuring excellent customer service, employee engagement, and productivity can be much more difficult in a remote environment.
It's no longer enough to rely on basic metrics like average call time in the isolation of the contact center. Cutting-edge business leaders are leaning into advanced analytics to define KPIs and track progress toward those performance goals. With the right analytics tools, business leaders can uncover performance patterns and trends that inform real-time decisions based on high-quality data. The result? Improved agent performance, operational efficiency, and collaboration, not to mention better alignment between the contact center and the organization's overall business goals.
#4. Customer Support Via Social Media
Social media is already a huge part of many people's daily lives. It is becoming even more popular as a way for businesses to connect with their customers. Offering support through social media is increasingly important. Social media platforms are more than just consumers talking about an organization, but it is a means of talking to the organization.
Some companies have even started to make conversations between customers and the organization public. Thus, potential customers can see how the brand solved a problem. As a result, it has been easy to demonstrate brand intelligence and care when resolving customer issues. This implementation should be a part of a larger plan of making communications easier and more convenient. People interact with each other on social media, so it makes sense that it would be beneficial to create positive business relationships and connections.
Ready to learn more about how VoIP technology can support your contact center?
Our team is happy to help!